Button pushing is too hard work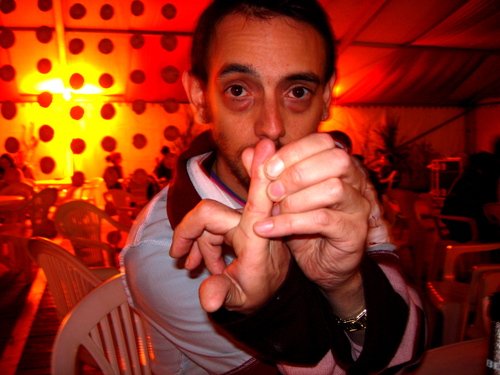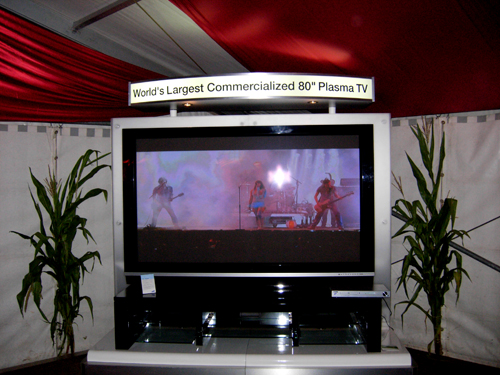 The life of a jetsetting techno boulevardier is not all wine and roses. Sometimes the roses have pricky things on them. And so the SonneMondSterne festival, for instance, got prickly with 10-degree (Celsius) temps when all we'd packed were airy summer threads--good for Sonne, not so good for Sterne. This is Cristian Vogel showing off a wound of uncertain provenance, backstage in the VIP bar where the vodka flowed plentifully (if by "plentifully" you meant four euros for a precisely measured thimble; no Spanish-style overflow here) and the "World's Largest Commercialized 80" Plasma TV" was on display, for all those superstar DJs with a few tens of thousands of spare euros burning a hole in their pocket--and a few thousand extra square inches of free wall space burning a hole in their Mitte apartments. What many of us, Vogel included, wanted to know: how big were the non-commercialized 80" plasma TVs? And for that matter, how could one 80" plasma TV, commercialized or not, be larger (or smaller) than another 80" plasma TV?
Regardless of such tangled philosophical questions, I decided to do my part by reproducing an image of the mesmerizing, tantalizing virtual schwag. It's my duty, after all, to keep the sponsors happy.
More photos were taken at the event, adding to the backlog of imagery accumulating daily. In our next update, we'll test the "vibration reduction" algorithms in our new digicam as our fingers tremble beneath the crushing Thüringen late-summer cold snap; blurry photos may or may not include shots of DJ Koze, Ricardo Villalobos (yes, again), Ellen Allien and Apparat, and sundry shivering colleagues.
P.S. Berlin is very nice, if intermittently spitting rain. Mom, please send warm socks. Address all care packages to Post26, everyone's home away from home in Kreuzberg.