Lights out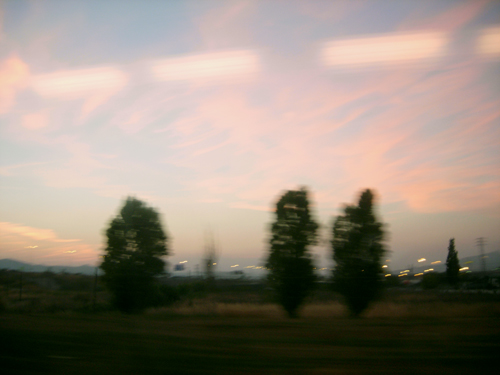 Greetings, GU and 4four readers. Many of you, it seems, are tuning in for the first time, curious perhaps to determine if I'm quite the minimal cockroach my reputation makes me out to be, and to see how the nascent fite! with my esteemed colleague Geeta may be shaping up. (Hint: there is no fite!, but we are considering options for a carefully stage-managed feud that might help propel both of us further into the spotlight. Thus far we are considering water pistols at dawn—in front of Hot97's offices, naturally.)
I am not, for the record, a minimal cockroach. But just for the sake of argument, here are a few of the jams that are making me wish I had six legs and a darkened kitchen to run around in.
Sierra Sam, "Perfume (Quenum remix)" (Surprise)
Broken beat and techno shack up for a steamy one night stand as Switzerland's Quenum lures minimal to the lumpy side of the bed. The drum programming shuttles vaguely between dancehall and reggaeton, or at least fantasies of those genres, while the hi-hat plays Atlas and shoulders the enormity of the rhythmic burden. The vocalist sounds a bit uncannily like Lamb's Louise Rhodes, and the synth patterns, come to think of it, sound a little like Lil' Louis. If this were really a perfume, its dominant notes would be burnt rubber, hot metal and soap.
Damian Schwarz, "Ruidos y Frecuencias 1" (Apnea)
The Net28 folks (including the CMYK, Pulpa and Klitekture labels) are building quite a little scene in Madrid. When Konrad Black played this at Raum last week, I rushed to ask him what it was, and felt promptly egg-faced to learn that I already had it in my collection. Won't make that mistake again: Schwarz' take on post-Panasonic squealism is less reverential than Sleeparchive's, and for that matter, more engaging—perhaps because he knows how to swing. With a background full of whooping oscillators spinning like water wheels, Schwarz builds things to an undeniable climax stacking beats like paving stones. If you want to get across, you're going to have to hopscotch.
Martinez, "Underwater" (Galaktika)
More Spanish action, this time from Denmark's Martinez, recording for Barcelona's Galaktika label. That combo suggests a cross between, say, Trentemøller and Factor City, and in fact the comparison isn't that far off. Martinez' drum programming is tight, controlled and thoroughly no-frills; while he's using the same mica-thin blips and ticks for syncopated filler, his core remains a no-nonsense confab of kick, snare and fidgety hi-hats. Is this what the kids are calling "nanotrance" these days? Parallel bass and sawtooth lead do-see-do through a filtered, Latin twirl while a counterpoint synth line puts the stars in your eyes. Simple but highly effective. Slot alongside other arcingly, achingly melodic slabs from Sascha Funke, Zander VT, Rekleiner, Connaisseur Recordings, and Gabriel Ananda's absolutely monster "Doppelwhipper (Live)", etc.
Christian Rottler, Feuer EP (Freundinnen)
The world's most underrated label, Freundinnen, breaks another of its all-too-common, all-too-long silences with this bizarre three-tracker. The original version of the tune is a lo-fi ballad for voice and guitar, performed by Christian Rotter, sounds a lot like Raz O'Hara at his most heartsick, while his double-tracked German-language vocals sound like he's eating apples into the mic; towards the end, some off-time digital skipping makes it sound like Oval has snuck into the studio to sabotage the project, but he plays through the hiccups. Man like Move D takes a page from "Drop It Like It's Hot" to open the track with hissing white noise that sounds like pumping air brakes; burying the vox deep in the murk, Move pulls out congas and timestretching tricks to craft a rhythm that sounds like Robag Villalobos. A lattice of bells and bleeps is strung up, upon which he hangs hip-hop scratching and hints of hip-house stutter, as if confirming Wolfgang Tillmann's title, If One Thing Matters, Everything Matters.
On the B-side, Moonharbour's Marlow and Comix (who?) go back to basics with a rocksteady house foundation and gloopy bass riffs. Lasers strafe from above, shakers flutter their wings like night moths and chicken-scratch guitars give free rein to Da Funk. Every corner of the track is full of something—echoes, accidentals, leaky steampipes—but somehow it all feels spacious, even when sheet after sheet of synthesizer is stretched across its twitching form. The vocal treatment suggests that Autotune should never be used for "naturalistic" purposes again, so great is its potential for reshaping sound—turning the cool putty of the voice into something hard and flat-faceted. (The vocal treatment, in fact, reminds me a ton of the Autotune shenanigans on this record, long one of my favorites.) By the time the tune sashays out, all shimmy-shuffle and major-key overdose, something strange has happened: "experimental" and "popular" music have turned into one another, leaving no one the wiser.