Witch house, DJ Screw and the new doom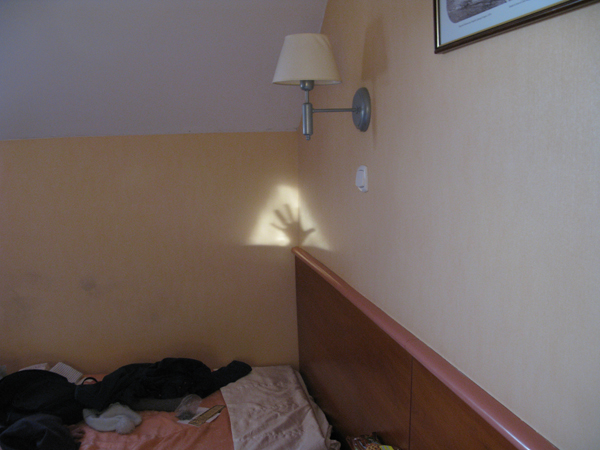 Updated January 10, 2011: You can hear much of the music discussed below in the two mixes I put together for Made Like a Tree to sum up the best of 2010. Download links and tracklistings are available here.
Jon Caramanica has an interesting piece on "witch house" and the legacy of DJ Screw in the NY Times today, tracing the way the late Houston hip-hop producer's method of slowing down loops and samples has influenced the current vogue for noir, slow-motion grooves.
I think he may have gotten one thing wrong. "When DJ Screw made slow records," he writes, "it required clever manipulation of hardware with built-in limitations. One method was to pitch down his turntable while simultaneously recording on a cassette player running at slow speed." By my reckoning, that's actually backwards: recording anything to tape at a slow speed means that it would play back faster when the tape is sped back up, while recording at a slow speed and playing back at the same speed wouldn't provide any effect at all. When I was in high school, back in the late-mid-'80s, I used to record goth-tinged new wave on a four-track recorder at home, using synthesizers, drum machines, guitar and effects. I discovered that I could pitch down my voice—coaxing a Bauhaus growl out of my adolescent quaver—by pitching up the cassette deck while recording: when played back at normal speed with the other three tracks, the vocals would thus come out slurred and tarred. Unless I've got the physics of it wrong, that's the technique that Caramanica means.
While it's appropriate to confirm Screw's role as an avant-garde catalyst, it's also worth remembering artists from other contexts who pioneered similar slow-motion techniques. One of the most important here is Philip Jeck, who since the mid '90s has been releasing music collaged from thrift-store vinyl played back at slow speeds on primitive turntables. (Jeck has availed himself of an even more extreme range of tempos, playing 78-RPM records on Dansette players pitched down to 16 RPM. "When you slow a record down that much, other things start appearing out of the sound," Jeck explained to me in an interview in 2004.)
As I wrote on the Rhapsody blog a few months ago, considering the time-stretched Justin Bieber recording that had just gone viral, the current vogue for slowcore and screwed aesthetics isn't limited to witch house, or even underground music within hip-hop's outer orbits. Stars of the Lid have been performing narcotic, nearly static post-rock for a decade. House music's tempos have been slowing for a couple of years now, with many nu-disco tracks bumping along at a sluggish 100 or 110 BPM. (Of course, as Axel Boman's "Purple Drank" makes clear, DJ Screw can also be a very explicit influence here.) The XX, while drawing from contemporary R&B and UK dance music, also revive the slowcore aesthetic of early '90s groups like Low. In the actual avant-garde, John Cage's "As Slow As Possible" is currently being played on an organ in Halberstadt, Germany, in a version that certainly sets a new record for screwed music: the performance, which began in 2001, is slated to have a duration of 639 years, ending in 2640. (There are, thankfully, considerable intermissions between individual notes, allowing audience members the necessary time to addend to personal needs: bathroom breaks, meals, careers, birthdays, even funerals, including one's own.)
It's odd to see Oneohtrix Point Never in the context of witch house, but it actually helpfully amplifies the concept here, which really shouldn't be confined to Salem and their shtick (which to me often feels gimmicky, at best, and, at worst, tinged with minstrelsy). What's happening is a kind of new noir, not only influenced by DJ Screw's experiments with playback tempo but also deeply informed by post-punk, new wave and gothic music from the late '70s and early '80s.
Oddly, these styles already had a revival 10 years ago, but the first burst of nostalgic hipster music privileged cocaine sparkle and perky dance-punk. Now, it's new wave's darker tendencies that are returning to the fore. Instead of punk-funk groups like A Certain Ratio, it's bands like Cocteau Twins or Crispy Ambulance that are offering the template for contemporary artists from Raime to Glasser.
It's also worth considering the way that European dance music traditions are being folded into the mix, not as living culture but rather as nostalgic referents to an alien, possibly imagined era: think of the trance arpeggios in the Knife and the even more explicitly trancey stabs in Salem—who have themselves included trance classics by the likes of Darude in their own mixtapes. The rave connection also reminds me of Mark Leckey's amazing 1999 video "Fiorucci Made Me Hardcore," which collages together footage of ravers, football casuals and northern soul dancers from the '90s, '80s and '70s. Sampled from news footage and VHS cassettes and played back at slow tempos, it inspires the same kind of druggy reverie as Oneohtrix Point Never's YouTube loops. (The way it makes aesthetic use of videotape's limitations directly anticipates the pixelated aesthetic of both OPN's videos and the music of Actress, who has said that he samples the audio from YouTube videos in his own productions, which are suffused with a weird, compressed, digital grit.)
Fiorucci Made Me Hardcore (Mark Leckey) from Anon. on Vimeo.
Note: turn your speakers way up, as the sound on the above bootleg is very low.
The only other thing from the article that I would dispute is the observation by Robin Carolan (20jazzfunkgreats, Tri Angle) that "No one else was making the kind of music Salem was making at the time." I'm not sure about that; Manchester's Demdike Stare have been crafting their own brand of neo-gothic music more or less in parallel to Salem. If anything, Demdike Stare are even more deserving of the "witch house" tag, given that they're named for an actual witch and have a deeper connection to actual house music. The point, of course, isn't who is or isn't witch house—it's probably easier to find an admitted hipster than a musician who self-identifies as witch house—but rather that this glum stuff is bubbling up all over the place. Consider as well Raime, a new UK duo (on the new Blackest Ever Black label) whose dub techno grows out of a bed of samples of forgotten goth and industrial acts.
Raime - We Must Hunt Under The Wreckage Of Many Systems [Edit] by Blackest Ever Black
Doom—or at least gloom—seems to be in the ascendant across a spectrum of underground subcultures and DIY popular music, much of it specifically rooted in the apocalyptic aesthetics of the mid '80s, when Thatcherism, Reaganism and the prospect of nuclear annihilation cast independent music in an almost uniformly sooty form. Off the top of my head:
• the coldwave revival
• Type Records
• Bill Wells & Stefan Schneider's new Pianotapes, reminiscent of Brian Eno & Harold Budd's collaborations
• industrial/metal-themed techno like Ancient Methods, Silent Servant, or Milton Bradley's label The End of All Existence
• Shackleton—both in mood and in Skull Disco's post-Pushead aesthetics
• Sunn O)))
• Emeralds' debt to the Durutti Column
• the dozens of hand-stamped, white-label vinyl offerings at Hard Wax, whose unpretentious pretensions (pretentious unpretention?) suggest the black-and-white Xerox aesthetic of '80s post-punk and industrial
• Aardvarck's goth- and metal-tinged dubstep
• Burial and "hauntological" dubstep
• minimal-techno act Hauntologists
• retro-witchcraft and tribalist references from T++ (shades of Rema Rema) and Harmonious Thelonius
• the Netherlands' Bunker label, which has been keeping electro at cryogenic temperatures for over 15 years now
• Oni Ayhun's post-punk, industrial sonics and sleeve designs
• Bristol's October (who, to bring it back to DJ Screw, recently released a mix of pitched-down music, called "Slightly Screwed")
• Bohren & Der Club of Gore
• Elektro Guzzi
• Fever Ray
• Grouper
• in name only, the Berlin house producer Iron Curtis
• in name only, Ewan Pearson and Sasse's Misericord label
• Tin Man's dirge-like house beats and codeine Leonard Cohen impersonation (which long predates witch house)
• Pantha du Prince's bells
• Superpitcher's New Romantic dandyism
• Dial Records' sleeve designs
I'm sure that there are dozens of examples I'm forgetting—not to mention last month's (incredible) Unsound festival, which adopted "Horror" as its 2010 theme, with programming heavy on merchants of doom like Ben Frost, Black to Comm, Demdike Stare, Jacob Kirkegaard, Jazkamer, Shining, Kreng, Lustmord, Mordant Music, Oni Ayhun, Raime, Shackleton, Tim Hecker, Zombie Zombie, and even Goblin themselves.
I don't think it's any surprise that an unironic post-punk/goth aesthetic has taken root so widely; western culture is suffused with anxiety and self-doubt right now. We're no longer worried about the Big One blowing us all to bits; now it's economic landmines, suicide bombers, hurricanes, cyberwar, downsizing, you name it. Do you know anyone who feels truly optimistic?
Of course, here, maybe it's instructive to go back to DJ Screw after all. I'd be curious to know to what extent cough-syrup use was tied to subaltern culture—poverty, chronic underemployment or unemployability, economic dysfunction and the degraded aesthetics of strip malls and wasted space. (Think of how Detroit's urban and suburban decay are said to have influenced Detroit techno: did the geography of Texas have a similar impact on screwed hip-hop?) Maybe the reason that screwed rap and post-punk aesthetics are coming together is that hopelessness is taking on newly universal proportions.