Someday Remixed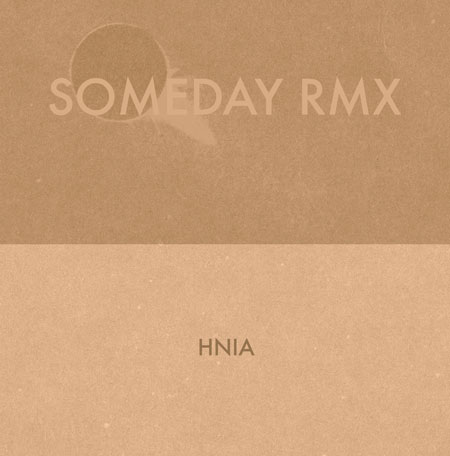 I'll admit to having my obsessive-compulsive quirks. Every so often, along comes a record that I'll buy, repeatedly, every time I find it in the shop. Depeche Mode's "Personal Jesus" is one of these; I think I have five copies of it now. I realize that's not an entirely excessive amount, but it's not quite normal, either. They're slightly different editions, but that's not the point—I'm not trying to round out a collection or anything. It's just that when I come across a copy of the familiar gunmetal-blue-and-cream sleeve, some unknown force takes over, and, provided that it doesn't cost more than ten dollars or so, I end up walking out of the store with it.
(Matmos have a photograph hanging on their apartment walls that fits this theme perfectly—the artist in question collects multiple copies of LPs and then photographs the spines where the records sit on the shelves. Matmos' copy, if I recall correctly, depicts a fistful of records by Brian Eno, though I don't remember which one. Anyone know the name of this artist?)
The same thing happens to me with a certain set of His Name Is Alive singles—or at least it would, if there were more of them floating around out there. I still remember the first time I came across one of these in the racks at Amoeba, somewhere in late 2001. At the time, HNIA's Someday My Blues Will Cover The Earth was ruling my world, thanks to its weirdly electro-acoustic take on R&B (and also thanks to Loretta Pippen's heartbreaking vocals on the recording). That the single featured remixes from Recloose and Ectomorph seemed too good to be true, and I snapped it up in a heartbeat. The Recloose mix was, indeed, as brilliant as you'd expect, a kind of scuffed broken-beat ballad shuffling through puddles of iridescent Rhodes. But it was the Ectormorph mix that really did my head in, pairing an unvarnished 808 cadence with standup acoustic bass and running Pippen's vocals through a vocoder, blacklit and prismatic. I'd never heard doomcore-electro-jazz done quite like that before, and I still haven't since. The next time I found a copy of the same 12"s, I snapped it up; somehow it seemed wrong to just leave it sitting there. Perhaps it would have been more altruistic to let someone else get their mitts on that thrilling record, but what if mine warped?
Luck smiled upon me once more when I spied the now-familiar brown chipboard sleeve in Amoeba's racks, and again I bit, this time without hesitating. Only when I got home did I realize it was a different record entirely, this time featuring remixes from Four Tet, Susumu Yokota and Minotaur shock. Not such a bad turn of events then. A little research tipped me to the fact that there was a third single in the series as well, this one featuring remixes from Herrmann & Kleine and, more excitingly, Burnt Friedman (featuring Josef Suchy and Pascal Schaefer). Despite my diligent digging, though, I never managed to turn up a copy.
Call it my lucky day, then, because Warn Defever has just put up the entire collection of Someday remixes – cleverly titled Someday Rmx -- for download, totally free, at 192kbps, at that. Now that's what you call fan appreciation. I don't know how long it'll be up, so I suggest downloading it now rather than later. Go to HNIA's website and check the right-hand column to download the album. It rules.
01. Write My Name (Tony Ollivierra)
02. One Year (Four Tet)
03. Happy Blues (Susumu Yokota)
04. Nothing Special (Herrmann & Kleine)
05. Happy Blues (Recloose)
06. Nothing Special (Burnt Friedman)
07. Someday (Burnt Friedman)
08. One Year (Minotaur Shock)
09. Someday (Ectomorph)
10. Write My Name (HNIA R&B version)
11. Write My Name (HNIA 1998 Demo)