Are Freunds Electric?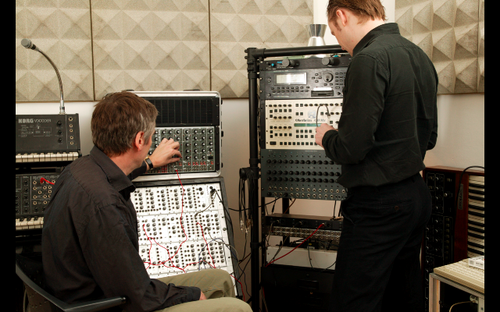 I've been rambling on about Tobias Freund's Non Standard Institute, or nsi., for a while now, both in a recent column for Pitchfork and in an article for The Wire. (See the latter link for a free download of two tracks off nsi.'s recent Plays Non Standards for Sähkö.)
But nothing prepared me for the total awesomeness of his new mix for Resident Advisor. It's the first RA podcast that has nothing to do with dance music whatsoever, and I'm not embarrassed to admit that I don't know a single track on it. But don't let the tracklisting scare you away: the mix is an intoxicating hour of Krautrockish weirdness, coldwave, proto-ambient, proto-industrial, field recordings, and even a Squarepusher track you won't even recognize. (I guess I lied, I must have heard that track at some point.) Sitting here at my desk at 11-something in the morning, I can't imagine an hour of music better suited for coffee, a buttered baguette, and the high grey clouds outside. I think I just found my breakfast listening for the next month.
01. Robert Fripp 'Preface' from Exposure [BGM, 1979]
02. Ryuichi Sakamoto 'Milan 1909' from Futurism [MIDI Inc., 1986]
03. Nash the Slash 'Ylla' from Dreams and Nightmares [Cut Throat Records, 1979]
04. WIR 'Naked Whooping & Such Like' from The First Letter [Mute, 1991]
05. Pyrolator 'Nordatlantik' from Inland [Ata Tak, 1979]
06. The Flying Lizards 'Trouble' [Virgin Records, 1980]
07. Andy Partridge 'Shore Leave Ornithology (Another 1950)' from Take Away [Virgin Records, 1980]
08. Les Vampyrettes 'Biomutanten' [EMI Electrola, 1985]
09. The Gadgets 'Gevil's Dyke' [Final Solution, 1980]
10. Baka Forest People 'Heart of the Forest' (A Capella) [Rykodisc, 1993]
11. Haruomi Hosono 'Luminescent/Hotaru' from Philharmony [Alfa Records, 1982]
12. Savant 'The Neo-Realist' [Pol Records, 1983]
13. Squarepusher 'Vacuum Garden' from Hello Everything [Warp, 2006]
14. Gary Numan 'Cry the Clock Said' from Dance [Beggars Banquet, 1981]
15. Dome 'Keep It' [Dome Records, 1980]