Where is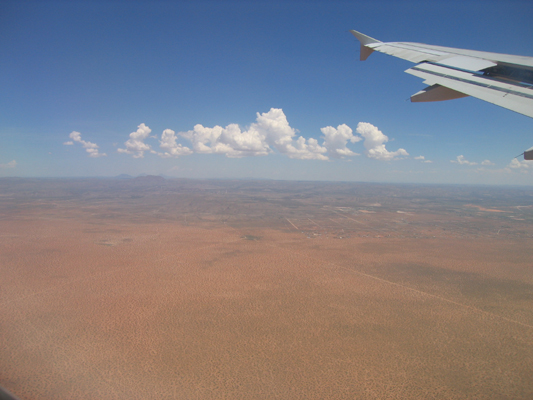 What think you when you think, "Juarez"?
If you are like me, very little – well nigh zip, casi nada. Except, of course, for images of La Migra, rumors of drug cartels, and a vague awareness that many young women – I'm not sure whether they number in the dozens or the hundreds, honestly – have been murdered, occasionally disappeared, over the course of many years by assailants unknown. In short, Juarez is probably not in anyone's top 10 vacation destinations. But this does not stop me from going there – to DJ, as a matter of fact. It is the first time anyone has ever invited me to another country solely to play records, and that's reason enough for me. I am, in fact, deeply honored.
My approach is like most approaches these days: shotput via aluminum tube, concoursed along interminable carpeted and peoplemovered passageways. I buy a copy of The Economist in San Franicsco; in Phoenix I scarf down an unappealing burrito which is nevertheless far less unappealing than the other deepfried, steamtabled, cholesterolcentric fare on offer. Like most trips these days, my trip is uneventful. (The discomfort caused by lugging two bags of records as carry-on luggage does not qualify as an "event," given its seeming interminability.) The scabby desert surrounding El Paso, my point of arrival, is an abstraction.
Until, that is, I emerge through the sliding glass doors into a dry, hot blast of air. El Paso has done its damnedest to eradicate the desert – driving along its freeways, if you ignored the rocky buttes around you, you could be in any suburban sprawl in North America, ruled by asphalt, boxed in by "big box" retailers. But its heat is very real, almost solid. I do not envy the soldiers practicing maneuvers at nearby Fort Bliss. (What a name.)
My hosts pick me up and we drive to a run-down party supply store to purchase wristbands, which the club apparently has run out of. The party supply store is a warehouse filled mostly with dust and empty space, but where there are objects they are piñatas and mylar balloons and streamers and napkins and ribbons, many festooned with American flags. The border is a five-minute drive away, marked by the sluggish Rio Grande, which wends between industrial plants and alongside signs in two languages warning polluteddon'tfishhereoryou'lldie; "Rio Grande" seems a misnomer, the result of an overenthusiastic branding exercise. There are INS agents in SUVs parked behind glass hutches every hundred yards or so; many of the hutches are pocked with bulletholes.
Crossing the toll bridge into Mexico I have my passport in hand; my host waves it away. "You won't need that." He's right; we drive into Mexico without stopping, without so much as a look from the guards. Such lopsided border controls cannot be pleasing to those who endure the grim exercise of going the other way with any regularity.
Juarez is a mall town – more big box retailers, fast food outlets, and smaller, more localized strip malls. We pass a Vegas-style pyramid sporting a sphinx on its roof. Called El Sfinge, it is a nightclub. Not far beyond is what appears to be an entire mall given over to yuppified nightclubs, one garish, bepalmed entrance after another. I will not be playing here.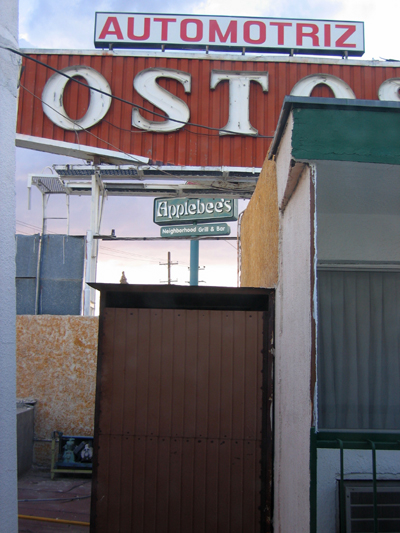 My hotel is the Hotel Monaco - or perhaps the Monte Carlo, I can't really recall. Three stars, though, or so the wall tells me. And a generous checkout policy, with departure not required until 1pm. (Between 1 and 3pm room rates are 25%, between 3 and 5pm 50% -- though I can't figure out if this was the surcharge for failing to vacate your room by 1, or the rate available to afternooners looking for lodging of an hourly nature.) There is a strange squeaking coming from the ceiling, which disturbs me, due to the mouse-sized hole right about the location of the squeak, but a simple test of the AC switch eventually reassures me that it was just the finicky complaint of the fan blades. (I know, since when does AC have fan blades? Let's just not talk about it.) And there is cable TV with MTV Latin America which I watch for about five hours while sucking down Diet Coke, purchased from the lobby vending machine for 5 pesos a pop, and waiting for my ride to the night's gig.
MTV Latin America does not differ significantly from its North American parent. I did see a handful of Latin American videos in the Top Veinte countdown, but I sadly fail to remember the names of the artists. I believe they were Latin Avril, Latin Britney, and Latin Thursday, but my memory may be clouded by cultural chauvinism. I think those are close, though.
(What's up with all the hit-and-runs in videos these days, anyway? I saw at least three videos prominently featuring people getting sedanned - how long has this been going on? And won't someone please think of the children?)
At 9pm I carry my bags downstairs to the lobby to meet my ride. My ride is nowhere to be found; the desk clerk stops me on my way out the door. "I'm sorry, you can't leave," he says in Spanish. "They only paid half the fee for your room, and I can't let you go until they pay the rest." I consider forking over the remaining $18 for the privilege of stepping out for a breath of hot fresh air, but content myself with ordering and reordering my records for the next 45 minutes.
My host's friend arrives with his girlfriend and pays off my keeper. Abel is a stone-faced guy who grills me on headliners I've opened for and favors progressive house and psycotrance, as they call it here; his girlfriend is an American catalog model from El Paso who spends much of her time, she says, in Juarez, when she's not working in New York or Barcelona. She speaks little, if any, Spanish. I don't ask.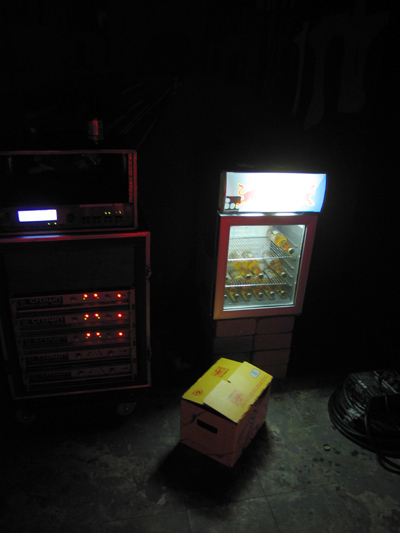 My gig is at a club called the Underground, which lives up to its name – situated in Juarez's slightly seedy downtown (gangs have been a problem, admits the manager), it's a boxy basement space with a kick-ass soundsystem, wonderful monitors, and a Red Bull fridge behind the booth stocked full with Sol beer. I couldn't be happier.
The gig itself is underpopulated; perhaps two dozen people pass through all night. It's a shame: the DJs before me, one from Juarez and one from Dallas, play storming sets full of Akufen and Robag Wruhme and Dominik Eulberg. The global spread of this marginal music never ceases to amaze me. My own set goes well – I don't think I've ever played better, technically speaking. An hour of minimal, lots of Donnacha Costello carrying us into more acidic territory, then full-on Sender/Black Strobe/Ferenc/Mathew Jonson madness. I barely remember the last hour. The 15 people there crowd the stage and dance, whoop, whistle. Fucking troopers. Who needs a crowd? It's a house party and everyone knows what to do. I finish with Westbam and Nena's "Oldschool, Baby" as the lights come up and say a prayer of thanks in Cologne's direction.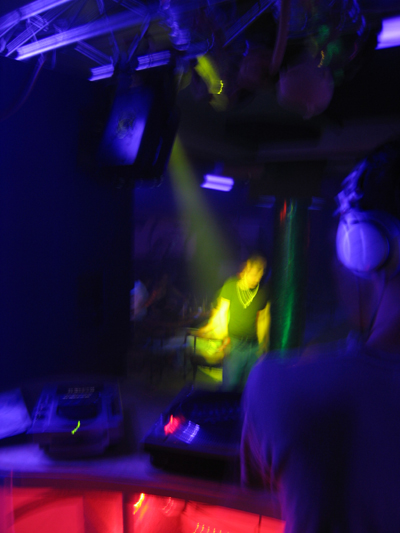 There are afterparties, or there are supposed to be. Something at a ranch somewhere fails to materialize. We wind up, a whole caravan of us, outside a gated home in an upscale neighborhood. My host seems nervous. "Are you sure you want to go? Maybe we should just go back to our house." Hell yes I want to go! There are men in cowboy hats and kittenish women in heels and bobby socks. Entering the compound, though, the music is not techno – as I'd expected, techno being the universal music of afterparties the world over, no? – but norteño music. "This is a narcotraficante house," says one of our crew, quietly. "Or at least the children of narcotraficantes." We do not stay long – in fact, we grab our liter-sized beers and pile back into our Jettas and pickups and beat a hasty retreat, playing hopscotch in the traffic back to someone's house. Whose house? I'm too tired to ask. Turntables and a mixer appear out of a car trunk; before long someone is playing proggy techno and a joint is being rolled in toilet paper. The toilet paper is scented. I play a few records but the beer and miles exercise a stronger torque than the Technics, and my host graciously returns me to the Monte Monaco, where Latin Avril is still singing on the TV I'd left on, where a now-reassuring squeaking still emits from the ceiling, and where only 5 hours hence my kind and generous host will gather me before swinging through the MacDonald's drivethru – the hash browns taste exactly the same on the other side of the border – and ferry me back over the bridge, past the stern, Oakleys-wearing customs agent, and on up into the hills for a quick scenic tour of El Paso's heights (even here, La Migra patrols, climbing deadly hills on mountain bikes) before depositing me in front of the airport's sliding doors. An embrace, and I am sucked back inside the processed air and peoplemovered home.