Miami breach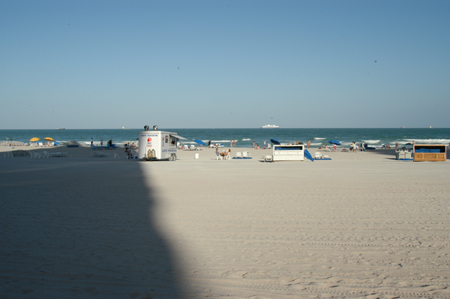 Miami is a snob's nightmare. Long Island pricesses in Abercrombie and Fitch ass-logo shorts; SUVs trolling for action, men catcalling at anything in a bikini or a miniskirt; the endless parade of surgical flesh and strategically suspended scraps of fabric; running the gantlet of sidewalk restaurant barkers. The gawking. The public drunkenness. Even the surf is paltry; the attempt to ride the choppy waves looks like a second-rate display of machismo, a mere excuse for the ritual of peeling off a wetsuit in the parking lot.
My first experience of a WMC party was more stylish, but not necessarily more enjoyable. (In fact, I prefer the voyeurism.) Two hours to get into the DFA party. Six dollar Red Stripes. Intense claustrophobia on the dance floor. Fashion like a parody of Williamsburg. I can't exactly say I enjoyed myself, though I suppose it all beat sitting in my hotel room watching Martha Stewart trial updates on CNN. And Twitch did play Crackhaus's new single on Musique Risquée, which pretty much made my night.
Today's goal: find a cell phone charger, mine having crapped out. I'd be lost without text-messaging here.