Two albums: Morphosis + Bnjmn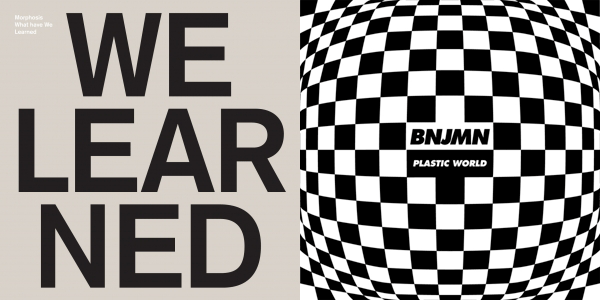 So my attempts to break back into the blog game have been less than successful; life has a way of getting in the way. (A certain opening line of Philip Larkin comes to mind.) My January top-10 list has fizzled out, morphed into February, been edited and repurposed for March, and I still don't have anything to show for it. Not for a lack of stellar material, just a lack of time to think and write about them, or even listen, really.
But this week two albums came out that, if your tastes align even slightly with mine, you need to hear.
Morphosis, What We Have Learned (Delsin)
Morphosis, recently (and wonderfully) profiled on Resident Advisor, is a Lebanese-born, Venice-based producer also known as Ra.H. His style, at least on What We Have Learned, on the Netherlands' excellent Delsin label, is a kind of roiling, undulating techno, meaty and analog in its textures, propelled by tight drum-machine programming and given shape by gorgeous, buzzing, chaotic, and also lyrical synthesizers. Classic Detroit techno, the Ostgut Ton sound, Omar-S (compare "Silent Screamer" to "Psychotic Photosynthesis") and Oni Ayhun's deranged modular fugues are all reference points, but the range displayed on the record, as well as that aforementioned lyrical quality, really make this stand out. For something so techno to its core, the tempos are refreshingly varied, and there's even an unexpected nod towards a kind of coldwave techno-pop on "Too Far"; the closing "Europa," another tangent, flirts with purplish hip-hop as filtered through Mad Professor's Massive Attack dubs. But for the core of the thing, listen to "Silent Screamer" (below), "Wild in Captivity," "Androids Among Us," the raga-like "Gate of Night," and the apocalyptic "Kawn." Masterful.

Morphosis - Silent Screamer by Delsin Records
Morphosis - Wild in Captivity by Delsin Records

Bnjmn, Plastic World (Rush Hour)
Rush Hour just keeps 'em comin'. I discovered Bnjmn last year through a vinyl-only, store-only release for the label; now the UK producer, a relative newcomer, brings us his first album—really, his first widely-available music at all. (Although, according to Discogs, he's been recording since 2007 as Jackhigh, including a collaborative EP last year with Brainfeeder's Teebs, who was one of my favorite discoveries in 2010.) Plastic World is, at its heart, an album of house and techno, or at least I think it is, given its predominantly 4/4 grooves and its big, buzzing synthesizers; in terms of tempo, though, it ranges even more widely than Morphosis, from churning chord burners ("Wheels in Motion") to midtempo fluoro-funk glides ("Tunnel Flight," moderately comparable to Oriol's record for Planet Mu last year) to nervous, post-Drexciyan electro-techno ("Plastic World," maybe "Ocean Spray"). As with Actress or Teebs, texture here is everything—Bnjmn favors a grainy spray coming off his synths, so that the music always seems to be in a permanent state of dissipation; at the same time, his compression tricks give the music a powerful sense of presence, opening and closing like a bellows, and sometimes almost boxing you about the ears. It's a wide load of full-spectrum sonics, and there's no helping getting swept up in its wake. Hard to wrap your head around at first, but so very worth it.