Spring, Sprung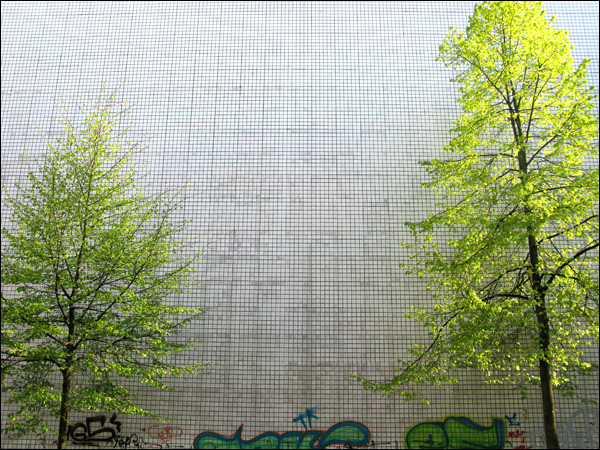 My girlfriend and I start our German course tomorrow. It's long overdue—she's actually gotten remarkably proficient at the day-to-day transactions with shopkeepers and plumbers, but I'm still stuck, haltingly, piecing together rudimentary phrases with disagreeing articles and scraps of unconjugated verbs. It's humbling. (Not, perhaps, as humbling as going to sign up for introductory German courses and finding yourself inadvertently queuing up for basic literacy class. I can read, just not this language. Although I guess that doesn't matter much here.)
In any case, with the anticipation that I'll be easing off on the postings until I adjust to a schedule that will have me sitting in a classroom from 8:30am until noon every day, here's a quick list of things currently keeping my speakers warm.

Wareika, "King's Child" (Motivbank)
Florian Schirmacher, Henrik Raabe, Jakob Seidensticker and Michael Hank's live jazz-house project (cf Henrik Schwartz, Christian Prommer's Drumlesson, Burnt Friedman) cops an Afro-beat vibe, gets the Villalobos treatment.
DJ Koze, "Dr. Fuck" (Circus Company)
Tired of deep-house sanctimony? So is Koze, judging from the sound of "Dr. Fuck." A warped, pitched-down voice declaims cookie-cutter platitudes ("It's not a joke, man, this is deep house, it's serious, maaaaaan") over death-ray beats and misfit percussion; it sounds like someone's fallen asleep against the modular, as pitches cramp and twitch in spasms.
Cobblestone Jazz, "Traffic Jam" (Wagon Repair)
Can a Rhodes erupt? Because that's what it sounds like here. Sure, by now you know what to expect from Cobblestone's sense of the groove, but Danuel Tate's keyboard lines always manage to keep my attention. Here, he makes you wait for them—hiding out for 32 bars or more before angling across the frame like a peacock on fire.
Manuel Tur, "Golden Complexion" (Pepe Bradock remixes) (Freerange)
Pepe Bradock is my freaking idol. Tur's original is a fine enough track, slow and deep and swirly in just the way I like, but maybe trying a little too hard to be deep and swirly, if you know what I mean. And then along comes Bradock, does his usual trick involving crotchety drum machines and busted samplers and 303s (and sandpaper, and tarpaper and lord knows what else—it seems like every one of his remixes probably requires multiple trips to the hardware store) and comes up with an approximation of disco music as if heard through several hundred meters of drain pipe.
Cortney Tidwell, Boys (City Slang)
So, so excited for this album. "Don't Let Stars Keep Us Tangled Up" served as my introduction to her, as I suspect it did for many, but it was no fluke (and not merely another of Ewan Pearson's unsurprisingly stellar productions). Boys finds the Nashville singer flitting between relatively straight full-band arrangements (somehow as much Leonard Cohen as they are south-of-the-border) and more electronic-based loop fugues that remind me variously of Thom Yorke, Juana Molina and the Cocteau Twins. "Television," the song Tidwell sings on Sideshow's recent album for Aus, is one of my favorite songs of 2009; with Boys she plants a foot on the album chart as well.