Tomorrow in Bristol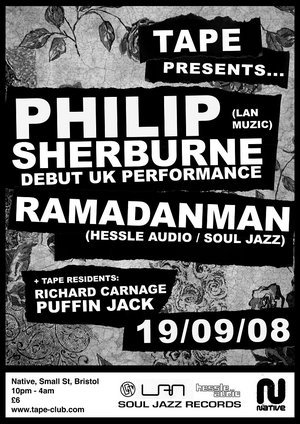 The rumors -- or I suppose I should say, "rumours" -- are true: tomorrow I touch down in Bristol for my first-ever UK gig, thanks to Richard Carnage and the fine folks at Tape. You know about me; read on after the jump for full info, plus a free Ramadanman mix. I hope you can make it out.
Posted: Tue Aug 19, 2008 3:14 pm Post subject: [BRISTOL]- TAPE -Fri 19/9- PHILIP SHERBURNE & RAMADANMAN

TAPE
Friday 19th September
Native, Small Street
10 til 4 // £6
with special guests:
PHILIP SHERBURNE (LAN Muzic) - DEBUT UK PERFORMANCE!
RAMADANMAN (Hessle Audio / Soul Jazz)
with support from your trusty residents:
Puffin Jack & Richard Carnage (TAPE)
http://www.tape-club.com
Philip Sherburne (Lan Muzic)
Writer, DJ, producer: Philip Sherburne is a one-man techno trifecta. Philip is best known as one of elecronic-music's most tireless scribes. With over a decade of bylines to his name, he is the editor of the biweekly electronic-music newsletter Earplug and writes regularly for Pitchfork, The Wire, XLR8R, eMusic and URGE; he's also contributed to many more publications, among them the New York Times and Slate.
Too restless to remain on the receiving end of the speakers, Philip has become increasingly visible as a DJ. While living in San Francisco, he threw one of the city's few minimal-techno parties of its time, hosting the likes of Ellen Allien, Superpitcher and Ada; in addition to a running hip-hop/downtempo/experimental weekly, he was also a part of the experimental-techno collective Trouble (along with local mainstays like Sutekh, Kit Clayton, Safety Scissors and Kid606) responsible for some of SF's most notoriously unhinged parties. Since relocating to Barcelona in 2005, Sherburne's reputation as a selector has grown. Both headlining and supporting marquee talents like Michael Mayer, Ricardo Villalobos, Luomo, Swayzak, M.A.N.D.Y., Apparat, Anja Schneider, Ewan Pearson, Efdemin and Sebo K, he appears regularly at multiple venues in Barcelona (The Moog, Raum, Lo*Li*Ta, Fellini and Kubik) and has also played in Berlin, Montreal, Chicago, Austin, Seattle, Portland, New York; Santiago and Valparaiso, Chile; and Juarez, Guadalajara, and Mexico City, Mexico.
In the last few years, Philip has increasingly turned his attentions towards production. His first release, the single "Lumberjacking," appeared on Berlin's Lan Muzic label in September 2007, backed with an Exercise One remix. His second twelve, 'Salt & Vinegar', dropped a couple of months back, again on LAN.
Phil's 'Light In August' mix
http://fairtilizer.com/track/lightinaugustmix
DJ Koze, "Cecily" (Philpot)
Shinedoe, "The Peacemaker (Deetron Remix)" (100% Pure)
Channel X, "Burning Train" (Upon You)
JC Freaks, "The Rock" (Wandering)
Knowing Looks, "1100=moon" (Musique Risquée)
Vera, "People's House" (Cargo Edition)
Goldwill, "Motion Team" (Musik Gewinnt Freunde)
Recloose, "Can't Take It (Carl Craig Remix)" (Planet E)
Ra.H, "The Fall of Justice" (Morphine)
Motorcitysoul, "Change You (Shur-I-Kan Remix)" (Simple)
Crustation, "Flame (Mood II Swing Borderline Insanity Dub)" (Jive)
Blaze, "Lovely Dae (Friends Experiment Remix)" (Playhouse)
More mixes:
'An Unseasonably Warm Mix'
http://www.allez-allez.co.uk/2008/04/philip-sherburne.html
'Beta Lounge, March 2008'
http://fairtilizer.com/track/8647
'Music For The Evening After'
http://fairtilizer.com/track/10247
'Schaffel Is Stronger Than Pride'
http://www.zshare.net/audio/3844693743eea2/

Ramadanman (Hessle Audio / Soul Jazz)
David 'Ramadanman' hails from north London, but now lives near Bournemouth and goes to university in Leeds. He has been DJing from the age of 14, beginning with deep house and hip hop, becoming attracted to hip-hop and jungle as he grew older.
Ramadanman has been interested in music all his life, and began producing by recording keyboard songs onto cassettes. After learning how to make music on computer, Ramadanman started to use his brother's copy of Fruity Loops at around the age of 15. He has stuck with this program ever since.
He heard about dubstep through making grime instrumentals, after several people commented that his beats sounded like it. Inspired by a Mala set after reaching FWD for the first time in April 2006, Ramadanman became involved in the dubstep scene. He made many tunes that summer after moving house, two of which he had professionally mastered at Transition Studios. These tunes were digitally released as WAVs, and were sold directly to DJs through Dubstepforum.com.
Since then Ramadanman has put out two more digital releases, and has seen his music appear on vinyl. His tune 'Response' was the first release on Bare Dubs, and the anthemic 'Good Feelin' came out on 2nd Drop Records with a Jamie Woon remix on the flipside. In late 2007 his track 'Every Next Day' opened proceedings on the compilation Box Of Dub 2, released by the legendary Soul Jazz Records. He has enjoyed DJ support from Skream, Kode9, Distance, Mary Anne Hobbs, Rob da Bank and many more.
Ramadanman decided to start a record label called Hessle Audio with fellow students Ben UFO and Pangaea at the start of 2007 and the first release by TRG sold out within weeks. He is involved in organizing the Leeds' first 100% dubstep night 'Ruffage', as well as hosting a weekly show on internet radio station Sub FM. 2007 has seen Ramadanman DJ in UK cities such as London, Leeds, Bristol, Nottingham, York, Brighton, Cambridge, Stoke and Durham as well as international bookings in Amsterdam, Berlin and Brussels.
He has performed alongside dubstep artists such as Digital Mystikz, Skream, Benga, Kode9, D1, Rusko, Kromestar, Plastician, Mary Anne Hobbs, Heny G, Scuba and Headhunter. With more releases forthcoming on Soul Jazz as well as Hessle Audio, things are looking promising for Ramadanman in 2008.
Mix for Electronic Explorations.org (starts at 36 mins in):
http://electronicexplorations.org/podpress_trac/web/43/0/ElectronicExplorations_016_Ramadanman.mp3
01. Pangaea - Antistatic (Ramadanman Remix) [Unreleased]
02. Pinch - Dr Carlson [Forthcoming Punch Drunk]
03. Ramadanman - Offal [Soul Jazz]
04. Pearson Sound - Dimes (Ramadanman Re-Edit) [Unreleased]
05. TRG - Generation (Breakage Remix) [Forthcoming Naked Lunch]
06. Quest - Arawak [Unreleased]
07. Untold - Walking Through Walls [Unreleased]
08. Ramadanman - Bidding War [Unreleased]
09. Ramadanman - Blimey [Forthcoming Hessle Audio]
10. Komonazmuk - Bad Apple [Forthcoming HENCH]
11. Headhunter - Royal Flush [Unreleased]
12. TRG - Put You Down (Ramadanman Refix) [Forthcoming Hessle Audio]
13. Martyn - All I Have Is Memories [Forthcoming Applepips]