Beta Days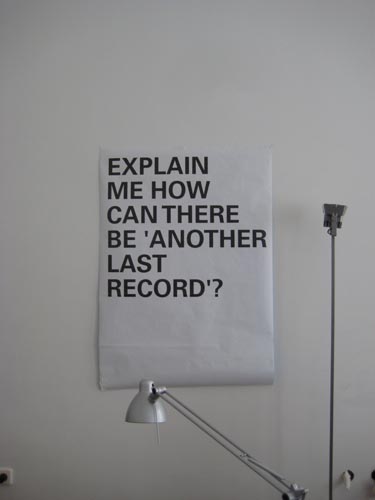 Every Thursday evening in the late '90s and early '00s, a nondescript warehouse space in San Francisco's Potrero Hill rolled up its loading-dock door to reveal, well, a big, empty warehouse space—but one tricked out with oddly shaped couches, video projections, lighting, turntables, and lots of black boxes glittering with LEDs, the majority of which you had no idea what the hell they did. What they did, of course, was to broadcast the proceedings inside across the internet, bringing intimate, impromptu sessions from some of the world's best DJs to computer speakers and headphones across the globe.
I still remember my first encounters with the Beta Lounge; as an unhappy graduate student at Brown University who yearned to know what an actual dance-music scene sounded like, its weekly feed was a lifeline. (Now that I think about it, the Beta Lounge was also the subject of one of my very first, self-assigned stories: I wrote a short profile of the site as a writing sample submitted to *Surface magazine, back when my only clips were from the Providence College Hill Journal and, inexplicably, an interview with filmmaker Helen Stickler for Bust magazine. How very '90s all that sounds!)
It was only when I finally moved to SF, though, that I finally got it: the Beta Lounge wasn't just about disembodied media streaming through straining pipes. It was a community of people. The shows were always free, and the protocol was BYOB—most folks brought six-packs and shared around. There were always bags of chips lying around, and during the summer, a barbecue often sat smoking on the sidewalk outside. This was before SF caught the Giuliani bug, and cops would roll by, slowing down to ogle the beef but never stopping to cause a fuss.
One of the best things about the Lounge was its mix of people. Every week, it seemed, you'd recognize a small core of regulars, but as for the other half of the crowd, you'd never seen them before, and you might never again. One week a group of Filipina hip-hoppers had the place full of Pinay B-girls; another week there'd be a massive contingent of weeded junglists in hoodies. The programming was eclectic, and excellent; the residents spun wide-ranging sets that always left you trainspotting, and wanting more. Every so often, the Lounge would throw an all-night party; I'm pretty sure the first time I ever saw the sun come up in San Francisco was after one such throwdown.
To the casual observer, the juxtaposition between the Beta Lounge's furnishings—a sort of shabby yuppie chic—and its surroundings, poised between high-income (white) Potrero Hill and the lower-income (and largely African-American) Hunters Point, and nestled next to a mobile, semi-shantytown full of campers, trailers, and homeless folks living out of shopping carts, might have suggested the pernicious influence of gentrification. But for those who took part—and I never saw anyone turned away—the Lounge was actually all about community. It reflected a particular strain of '90s utopianism, one where technology, (post)-rave culture and the entrepreneurial spirit came together to create something special.
The good times couldn't last. The Beta Lounge, financed by a parent company that first made CD-ROMs, then DVDs, never found a way to make money, and all that cabling wasn't free. Then the cops clamped down. So what if it was an industrial neighborhood: noise ordinances were noise ordinances, and open containers were deemed unaccountably threatening. Fines were levied; the kibosh was put.
But the Beta Lounge lives on, and not just in its extensive archives. (I have a few sets in there; I'm eternally grateful to the crew for giving me some of my very first chances to play in front of a crowd, and probably long before I was ready for it. Fortunately, my earlier sets were recorded under a DJ alias I've long since given up using, and one I'm not about to share with you now. Interested sleuths may find me out and laugh away at their leisure.) The Beta Lounge's sister outfit, with the same name and the same logo, continues to operate in Hamburg, in a space remarkably similar, but for the addition of a full (cash) bar. I was fortunate enough to play there a few weeks ago, before a night at that city's (infamous, and amazing) Golden Pudel club. You can listen to the set here--it's currently linked from the front page, but once it's moved, you'll have to dig into the archive to display it. (If anyone knows how to link directly to the stream, please tell me!)
Hausmann.C (Fresh Fish, Word and Sound) kicks off the first hour and a half, and I take over around 1:34 or so. The whole session is nice and chilled, quite a bit slower and housier than I normally play. I hope you enjoy it as much as I enjoyed playing it.
Special thanks to Hausmann.C, Ian, Brian, Zane, Öle, Monty, Ron, Niels, and everyone else from the good old days, spread to the winds as we may be.