November 2007 top whatever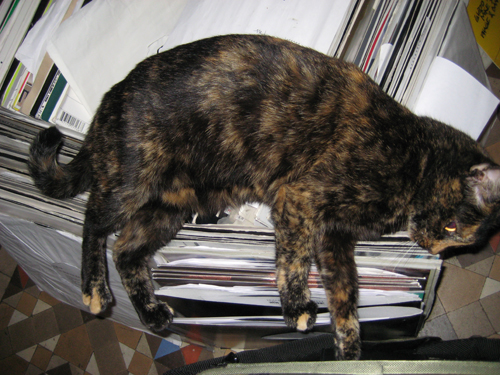 Long overdue: the monthly chart. Favorite tracks of the moment, for DJing or otherwise, plus some albums on heavy repeat.

TRACKS
Supermayer, "The Art of Letting Go (Ewan's Art of Getting Low Dub)" (Kompakt)
Your brain on Bungee cords. That shout cuts through everything, but triangle crushes scissors.
Ruede Hagelstein, "Der Kammblaser" (Lebensfreude)
Insects under the skin, monkeys in the trees.
Tobias Freund & Ricardo Villalobos, Odd Machine (Non Standard Productions)
One of our kick drums is missing.
dOP, "Allo Boom Boom" (Circus Company)
Noirish horns pour oil over a tribal stomp.
Matt John, "Olga Dancekowski" (Bar25)
He's still plying that keyboard loop from several records ago, and bless him: it's another carnival track, and someone spiked the cider.
Alland Byallo, "True (Lee Curtiss Remix)" (Nightlight Music)
Closer Musik's "Maria," Villalobos' "Dexter," and this.
Guido Schneider/Florian Schirmacher, "Nora P" (Cadenza)
Rain on a corrugated roof that bends from the pressure.
Thomas Melchior, "Out There" (Perlon)
Every track on his new album, No Disco Future, is ridiculously good, and totally its own thing. "Her Majesty" is the melancholic one, "Coming Up" the upended tumble, etc. This one, as suggested by its title, has the freaky keyboards and implacable snare.
Bruno Pronsato, "At Home I'm a Tourist" (Hello?Repeat)
Every track on his new album, Why Can't We Be Like Us, is ridiculously good, and totally its own thing. "At Home I'm a Tourist" is so spring-loaded you should wear knuckle protection.
Quenum, "Agbaja" (Alphahouse)
Smoothing some of his habitual angles, Quenum lets the anger poke through. Otherwise, it's all liquid.
Legowelt, "Disco Rout (Deetron Remix)" (Cocoon)
Bells, bells, bells.

STILL KILLING IT
Dave Aju, "Be Like the Sun" (Circus Company)
Jan Driver, "Train" (Grand Petrol)
Chica and the Folder, "Angelus Novus (Ricardo Villalobos Ritus Mix)" (Monika Enterprise)
Mr. G, "The Subbie" (no label)
Jan Driver, "Kardamoon"/"Trains" (GrandPetrol)
Radio Slave, "Bell Clap Dance" (Rekids)
Dusty Kid, "Kore" (Boxer)

ALBUMS
Nsi., Plays Non Standards (Sähkö)
Bruno Pronsato, Why Can't We Be Like Us (Hello?Repeat)
Thomas Melchior, No Disco Future (Perlon)
Sun Electric, Lost & Found (1998-2000) (Shitkatapult)
Michaela Melian, Los Angeles (Monika Enterprise)