Bonus Mix: Music for the Evening After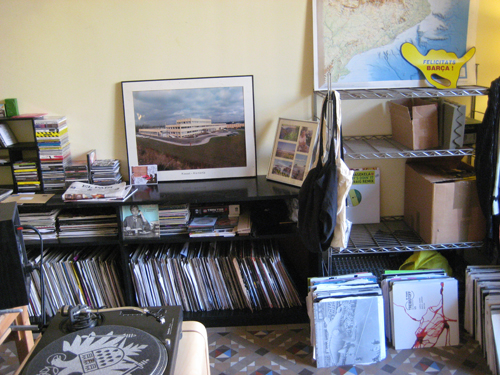 Following on yesterday's posted mix, here's another one, thrown together a few weeks ago on a Sunday evening, accordingly woozy. This one's a lot more restrained than the last mix, a lot more -- digamos -- minimal. But not your standard click-track fare -- more psychedelic, unsettled. I'll try to assemble a tracklist shortly, but it kicks off with Tod Dockstader (apologies to Rob Hall, who did it first and better), glides into Mikael Stavöstrand, his a Mathias Kaden mix from Archipel next, and on the way takes in Dave Aju's "Be Like the Sun," Petre Inspirescu, and more that I can't recall now.
Download it here:
Music for the Evening After Mix
1:31, 126MB @ 192kbps
UPDATE: TRACKLISTNG!
Tod Dockstader, unknown [from "Quartermass?]
Mikael Stavöstrand, "Q Fresa" (Sushitech)
Pheek, "Aye Aya Ashawa (Mathias Kaden Africa Remix)" (Archipel)
Lazy Fat People, "Low Profile" (Perspectiv)
Ulysse, "Sometimes" (Liebe Detail)
Gaiser, "Out of Sort" (Minus)
Visionquest, "How Low Can You Go? (Curtiss' RockBottom Remix)" (Dumb Unit)
Kroppssprak, (We Are 10)
Tim Xavier, "Astral Plane" (Podium)
Chaton, Precis EP A (Plak)
Animaltek, "Innocent Robot" (Treibstoff)
Dave Aju and the Invisible Art Trio, "Be Like the Sun" (Circus Company)
Minilogue, "Orglar A" (Minilogue)
Audio Werner, "Kabarett" (Bar25)
Luca Bacchetti, "Whatever" (Wagon Repair)
The Cheapers, [either "Fog" or "Frogs"] (Upon You)
Matt John, "Hawaii You" (Perlon)
Note: There's a moment about 15 minutes in where there's a bit of slippage between records. Not a trainwreck -- but the kind of slip that makes me gnash my teeth. You might not notice it. Just figured I should be upfront about it. The rest of the mix I like well enough to post as-is. If you find it an egregious breach of skillz, I'm sure you know the forums to say so.