Rumpelfunk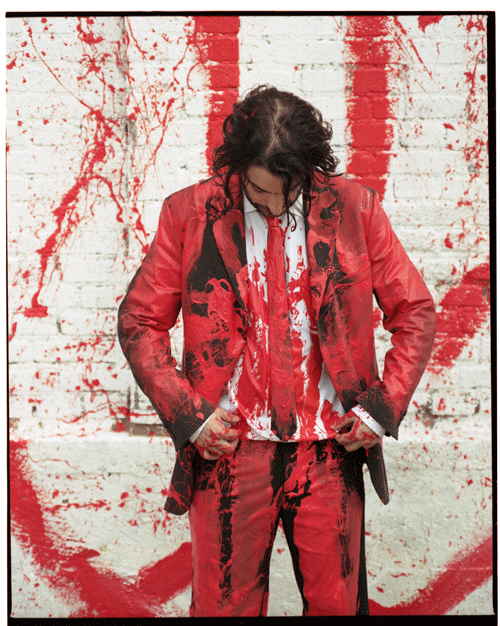 *Today's entry is re-posted from my Informer blog over at URGE.
The idea of starting to assemble my best-of-2007 list in February is laughable, but it'd be just as absurd to assume that one record won't be on my list come December: Rumpelzirkus, the debut album from Zürich's Kalabrese.
To be honest, I don't know much about Kalabrese, besides what I've gleaned from the website of the Swiss label Stattmusik, which is putting out his record. (There's a more extensive bio on Kalabrese's own website, but the German text isn't in HTML and resists Babelfishing; what looks like a translated version of the same bio appears on the website of the London club Run.) Real name Sascha Winkler, Kalabrese used to play in a Zürich hip-hop outfit (who knew, right?) called Sendak before he apparently decided that that wasn't where the wild things were, and gravitated towards minimal techno dance floors.
In 2004 the Berlin label Perlon released his Chicken Fried Rice EP, which remains one of the funniest, funkiest things the label has put out to this day. (I do know, because Perlon co-founder Zip told me, that Kalabrese is basically the only person to have had a demo accepted by the famously insular label.)
On first listen, Kalabrese doesn't sound that different from a lot of other minimal techno out there; he's got the same regulated 4/4 thud, the same time-keeping hi-hats, the same bumps and feints in all the right places. But even where he sounds stylistically like his peers—"Not the Same Shoes," featuring the beguiling Kate Wax in a sort of spoken-word duet, recalls the gravelly, minimalist funk of Matias Aguayo—something sets Kalabrese apart. It might simply be his instrumentation: Kalabrese augments his machine rhythms with generous swaths of sampled thwacks, rock kit and rippling congas. His synthesizers—cheap, vintage jobbies by the sound of them—take on the feel more traditional acoustic or electric instruments, constantly varying in envelope and timbre. Add to this surprisingly sophisticated arrangements featuring guitars, bass and even horns, and you've got one hell of a nuanced sound.
The closest comparison I can make it to Isolée's We Are Monster, and even there the two musicians don't really sound that much alike; what they share is a commitment to infusing the house format with all the spongy uncertainties of breath, slipping fingertips and room tone, and to morphing dance music's linear structure into a form just as groovily functional, but with far less predictable follow-through.
The first part of Rumpelzirkus is out next week as a 12-inch single; the EP features one enormous, antigravity jam ("Deep"), one cowboy slow-dance complete with horn section ("Body Tight") and one minimalist disco stormer in the Crowdpleaser & St. Plomb vein ("Not the Same Shoes"). Plus, for good measure, "I Can Not Hide Anymore," which sounds a little like the Sea and Cake with a twinge of Jim O'Rourke in full-on pop mode, complete with Hammond organs. (You can hear samples of all these tracks at the Stattmusik site.) A second EP follows next month, with three stellar, minimal-lounge jams ("Hafenlied," "Lose My Chair," "Where's the Future") plus "I'm a Heartbreakhotel," a genuinely heartbreaking, mostly acoustic number that sounds like what you might get if Will Oldham started spending weekends at Berghain. Finally, both EPs will be released on one CD, with two tracks from 2005's Hühnerfest EP rounding out the album. (One of these, "Auf dem Hof," was remixed by Freaks and Crowdpleaser in December; Crowdpleaser's mix, full of horns and typically unhinged, is particularly breathtaking. "Aufm Klo," meanwhile, is probably the closest you'll ever come to hearing Bob Dylan front house music.)
For now, check Stattmusik's Myspace page to hear all the tracks from Rumpelzirkus Part 1, and go to the playlist on this page over at URGE to download Kalabrese's Airolo EP from 2000, which offers four more tracks in a similar vein. Then, assuming you don't think I'm crazy, tell your friends about Kalabrese. Isolee was 2005's unlikely crossover hit; I suspect that in this Swiss sleeper genius we may have found this year's.