High flyerin'
Atención cono sur! Hay dos bolos más esta semana: este jueves en El Quinto Sol (Santiago) con Original Hamster y Notone; este sábado en Deck00 (Muelle Baron, Valparaiso) con Leandro Fresco y Pedro DJ. Ven!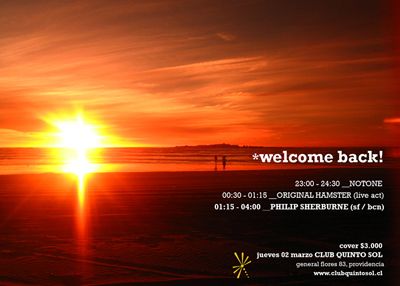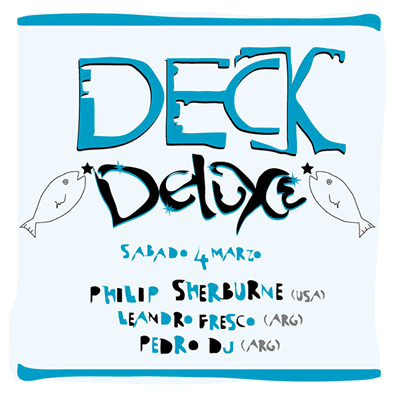 I've been Critical Beating all day, which has led my head to beat at a pretty critical frequency itself. (Thud, thud.) But it's been more than a micro-minute since I really talked about music here, so at the very least I figured I'd leave you with a top-something list of recent and forthcoming hotness.
Klang/Ongaku/Playhouse is on a funkin' roll right now; honestly, I'm not sure I can think of a similarly high-volume label (or trinity thereof) with a better hit-to-miss ratio at the moment. Let me count the ways…
My My, Serpentine EP — their "Klatta" was genius, but "Serpentine" is simply one of the best tracks I've heard in ages — nervous, restless, charged with a bracing energy and relentless toms that just won't quit. This one somehow falls in the sweet spot between Mobilee and Border Community, which is a hard place to reach indeed. If you don't believe me, listen here.
Phage & Daniel Dreier, Beeswax — that Phage is part of Mobilee's Pan-Pot should be no surprise; this three-tracker is right in line with that label's chunky/jittery/phizzy shizz, complete with jacking chassis beneath, lots of squiggly details atop, and oodles of reverb. "Green Onions" visits Steve Reich territory; "Easy Peasy Lemon Squeezy" features a huge circus-organ riff that's way creepier than the sunnyday title might imply; and the title track's an endlessly perforated bumper that'll go perfectly alongside all yr Vakant, Lan Muzic and Muzik Krause records. Chikkaboom!
Johannes Heil, Freaks R Us — functional, old school, and occasionally quite funny; "Tree of Life" sounds like Green Velvet fronted by James Murphy, and the title track hits the ol' LFO-bone at just the right angle.
Soylent Green, La Forca del Destino — an early entrant for my top 10 of 2006, Roman Flügel in his Soylent Green guise takes to the housier side of things, beat-checking classic Chicago while paying unparalleled attention to the virtues of economy and restraint. Shades of Melchior Productions (and, indeed, Melchior's old My Little Yoni) project lurk in the skip and the chiming. Every single piece is simply perfect, from the most insubstantial hi-hat to the meticulously tuned snares. You won't hear all this the first time out, but keep listening; what feels at first like a solid collection of tools reveals itself to be far, far more. I can't stop listening to this. And the acidy track eight is easily a parallel to that rideeeeeculous, presumably limited one-sided Ongaku 12" that's floating around right now — I forget who's behind that one, but it's a red label and a bloody acid grind to match. (Omar, quiero mi copia ya! Cabrón…)
Also on heavy rotation are a ton of 12"s from Vakant, Mobilee, Lan Muzic, and an absolutely blistering single from Minilogue on Treibstoff sublabel Wir; sound samples here. But those and other gems will have to wait until another day…