Minimal pasta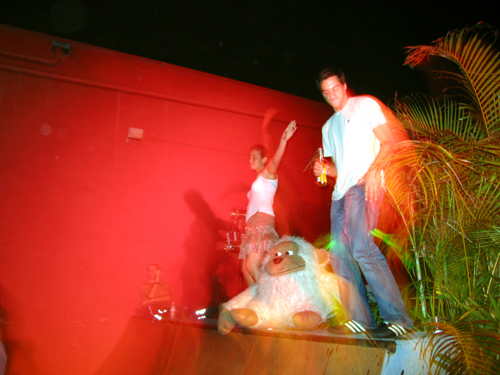 Whether you buy Spin about as often as you pick up Hummel Figurine Digest, or whether you've got all of your back issues shelved chronologically and indexed in a computer database, you need to buy this month's issue for Adrienne Day's kick-ass piece on Kompakt, which is pretty much the definitive story of the label in 2005.
That is, of course, unless you don't care for Kompakt — in which case, may I suggest you go here. (Just kidding.)
*The above photograph bears no relation, implicit or ex-, to Spin magazine, its advertisers, or shareholders, nor to Kompakt, Adrienne, nor anything else, really (although I did meet Sia Michel at the party where this photograph was taken, for whatever that's worth). Sometimes ravers and their plush toys just deserve to be seen in all their gurning glory by sober folks sitting at their desks on a Friday morning.