Head in Hands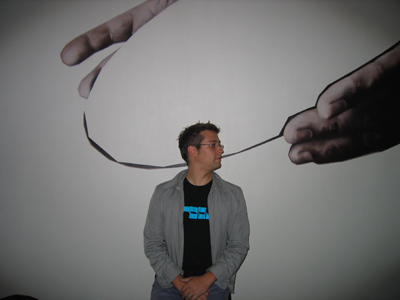 Greetings from Berlin. More specifically, from the hallway outside my hotel room at the Innside Residence -- the only place my wi-fi reception actually works. Ah, the joys of the digital age, the splendor of convenience. My hosts have kindly put me up at a flashy, 80s "design hotel" (overdesigned would be more like it), where I managed to break one of the round glass side tables within five minutes of entering the room, and here I am, sitting on the carpeted floor of the hallway outside. I may be a jetrosexual, but damn if it ain't giving me rugburn.
Actual updates - on last night's Kompakt/Musik Krause party, tonight's Narod Niki shindig, and tomorrow's Oceanclub blowout - are forthcoming. Plus a note or two on DJing in Valparaiso, and photos galore. (This one is of Egg's Guillaume, at a bar in Berlin, btw.) But for the time being, almost 48 hours of transit (Santiago-São Paulo-New York-Brussels-Berlin) have damn near worn me out.
Instead, go here to read me on Mouse on Mars.