Desert Island Discs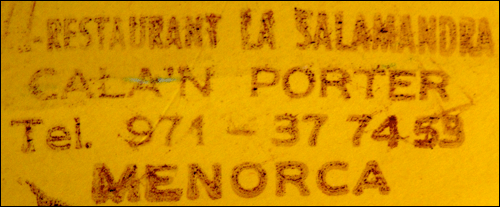 The two weeks in Menorca turned out to be quiet ones. We listened to music only in the car, and then just local radio (Shakira and Lady GaGa's radio people are clearly working overtime). At home and on the beach, silence reigned. Not total silence: there was a parrot across the street that had dozens of what sounded like ringtones in his repertoire; he cycled through them almost desperately, as if determined to make contact with someone. And then there were the pigeons, lovebirds, with their unrelenting doo DOO doo -- doo DOO doo, a partial son clave rhythm tossed back and forth.
But that's not to say I didn't shop for records. I managed a tidy haul at one of the island's charity shops.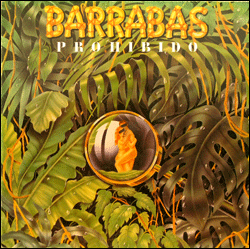 Barrabas, Prohibido (Car, 1983)
No surprise that there'd be a bit of Spanish quasi-disco in the lot. The cheese factor's pretty high here, but given that I was reading Peter Shapiro's excellent Turn the Beat Around at the time, I figured I could indulge. Yacht rock festooned in tinfoil garlands.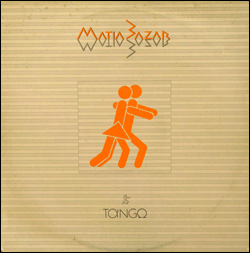 Matia Bazar, Tango (Epic, 1983)
I picked this up on the basis of the sleeve credits: "Hardware Apple II Europlus – Software Alpha Syntauri TM – Sintetizzatori Yamaha – Drum Machine DMX Oberheim." What you don't learn from the sleeve notes is how gratingly operatic the vocals can be. (Also, they represented Italy in Eurovision 1979! ) Still, there's no shortage of sheer aural stimuli here, and "Intellighenzia" actually sounds newly relevant, in an Italians Do It Better kind of way. But better, naturally.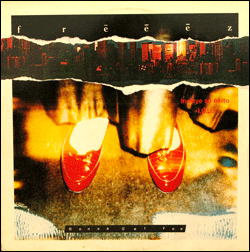 Freeez, Gonna Get You (Beggars Banquet / Ariola, 1983)
One of those groups I'd heard about but never knowingly heard. Arthur Baker production. Chromeo influence. DX7s? Shiny shiny shiny. Hard not to love.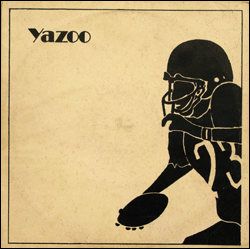 Yazoo, "Only You" c/w "Situation (Extended Version)" (Mute, 1982)
Classic.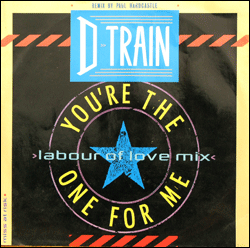 D-Train, "You're the One For Me (Paul Hardcastle Mix)" (Prelude, 1985)
A big Metro Area influence. Francois Kevorkian's mix of "You're the One for Me" is fantastic, chunky and gooey in just the right measures, slathered with clavinet. The vocals are gruff and seductive. "Keep On" (mixed by Francois K) I might like even better; both the piano/synth interplay and the ascending/descending chord progression on the chorus are to die for.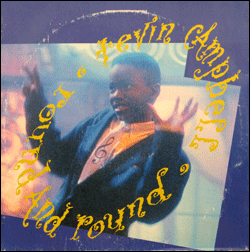 Tevin Campbell Prince, "Round and Round" (Paisley Park, 1990)
A nice surprise. Junior Vasquez delivers three mixes, taking Prince as housey as I've ever heard him. The sidelong "Round and Round (The House)" is a cool, acid house groover at 108 BPM, all blocky pianos and gumball bass. "Soul Mix Extended" has a lurching, hip-house feel, while "Soul Dub" goes quietly bonkers with slack, hand-triggered rimshots and carnival organs.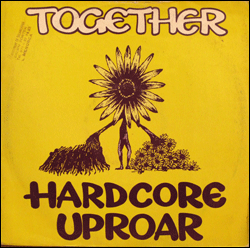 Together, Hardcore Uproar (FFRR, 1990)
A very nice surprise. I first heard Together on Vini Reilly's The Together Mix (Factory, 1991), a pair of acid-house remixes of Reilly's Durutti Column project, a much-loved record I lost a few years back. (Ahem, Omar?!?!) As I understand it, this was a pretty major anthem in its day -- all 909 snares and blinding pianos. Together was a duo of Jonathon Donaghy and Suddi Raval; Donaghy died in a car wreck in Ibiza in 1991, so it seems only fitting to have come across the record in the Baleares.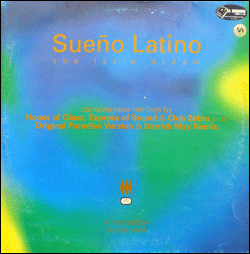 Sueño Latino, The Latin Dream (Remixes) (DFC, 1997)
1997 pressing of the 1989 classic reworking Manuel Gottsching's "E2-E4." I hadn't thought about it before, but the "Original Paradise Version," with its cloying, cooing female vocals -- "Amor… Te quiero… Te quiero…" -- really is the point of origin for 2009's fetish for "sensual," "ethnic" voiceovers, isn't it? At least Derrick May had the good sense to leave them out of his grand, gushing geyser of a remix, which is Balearic techno at its most humid.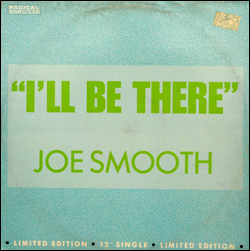 Joe Smooth, I'll Be There (DJ International, 1988)
Shopping for second-hand records can often give you an idea about the musical history of a given place, and I suspect that's doubly true of a place like Menorca, geographically isolated from more metropolitan cultures -- it's an island, after all -- but also crucially linked to them, via tourism. I tend to think of the Catalan dance-music culture of the late '80s and early '90s in terms of tooth-grinding makina and the pill-paved Ruta del Bakalao, but this dreamy, worshipful record suggests that more innocent tendencies also held sway, at least in the Baleares. (Curiously, many records in the thrift shop were stamped with the name and address of nightclubs and even restaurants -- see the image at the top of this post. I seem to recall reading, somewhere, of clubs in the '80s that had their own, in-house record collections for the disposal of the DJs; does anyone know more about this practice?)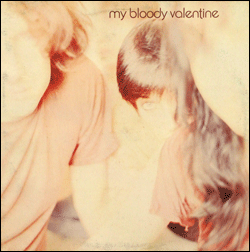 My Bloody Valentine, Isn't Anything (GASA, 1988)
I presume you've heard of this one.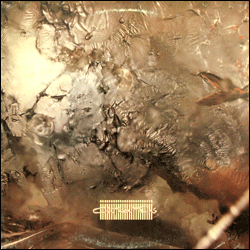 The Cocteau Twins, Head Over Heels (4AD/Discos Victoria, 1983)
Certainly didn't expect to find this.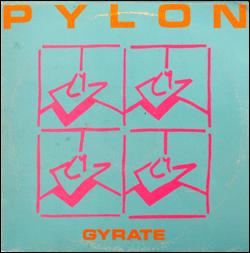 Pylon, Gyrate (Roof / Base Italia, 1980)
Much less this.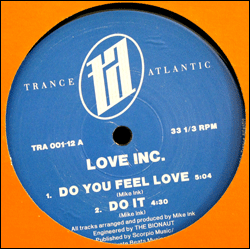 Love Inc., "Do You Feel Love" (Trance Atlantic, 1991)
And here's the holy grail of the whole haul: Wolfgang Voigt's first release as Love Inc., and also the first ever release on the Trance Atlantic label. (Engineered by the Bionaut, to boot.) Three tracks of grinding acid trance, including the 11+ minute "Trance Atlantic Express." Shockingly contemporary even now. What this was doing in an out-of-the-way thrift shop in Menorca, I'll never know. But I can only imagine how this must have gone over in the island's clubs, bars and open-airs back in the day.