Locked Down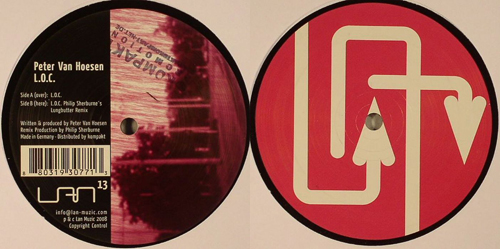 It's out! Next week marks the official release of Lan Muzic 13, "L.O.C.", by the ridiculously talented Peter Van Hoesen. Proprietor of the new Time To Express label, Peter has been making waves with his productions and mixes over at mnml ssgs and Modyfier, and the record's been earning great feedback from folks like Jeremy Caulfield (Dumb Unit), Andrew Grant (DC10), Alex Attias (Planet E, Num), Martyn 3000 (Apple Pips), and Perc... If you squint closely at the label image above, you may notice that the flipside is a remix from yours truly. One side deep dusky techno in a Berghainish vein, the other side gnarly jacking techno/house with a frog in its throat. You can hear both tracks at Peter's and my MySpace pages, respectively (plus a little preview of my own Lan 14, the Salt & Vinegar EP, due out in July).
Distributed by Kompakt, the vinyl is on sale now at Phonica, who says, "Real dark, bad-trip sort of minimal techno that won't spare any of your braincells... Remix duties from mr superstar-journo, Philip Sherburne who takes things to an even darker side of the sonic spectrum..." Aside from the "superstar" bit that sounds about right.
Also at Juno, soon come from Decks and other retailers. Digital release to follow (but isn't wax much nicer?).